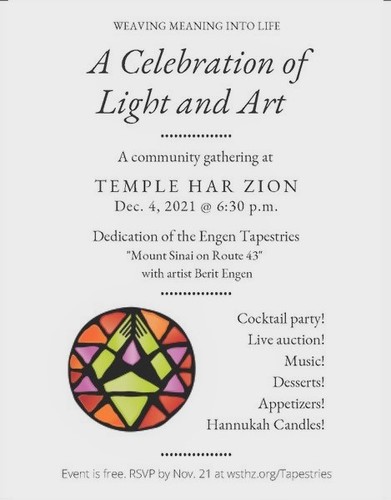 Saturday, December 4:
I am looking forward to giving an Artist Talk on my tapestry series
Mount Sinai on Route 43
at the beautiful Temple Har Zion! The series of ten commissioned pieces were installed last fall, but COVID-19 delayed the official dedication. Finally, the day has come for the dedication of the
Engen Tapestries
!
Temple Har Zion is a beautiful synagogue in River Forest, IL. It is known for the Gropper Windows: five floor-to-ceiling stained glass windows telling in stunning colors the stories in Genesis made by the artist William Gropper.
https://www.wsthz.org/gropper-windows
Three years ago, Har Zion was accepted to be featured in Open House Chicago, the annual free, public festival organized by the Chicago Architecture Center each fall.
Har Zion has a proud tradition of commissioning and acquiring Biblical-themed visual art. I am proud to have been invited to be part of this tradition!