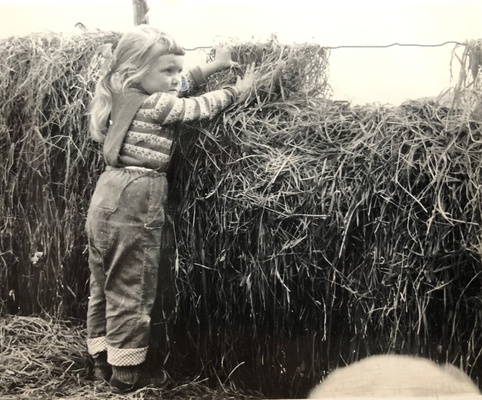 Playing with fiber: helping my grandparents drying hay.
Sunnmore, Norway, 1959 (Photo: Brynjulf Engen)
From Scandinavia to the Sh'ma:
Threads Intertwining Fjords and Judaism
I was born in Oslo, Norway, in 1955. As a young child obsessively enthused over colors, I was intrigued when I saw a table loom at a country fair, noticing how the overlapping of warp and weft threads could make designs and how weaving techniques could create and manipulate hues. As a hippie-ish tween, I brought my hand loom everywhere, making scarves, ties, and belts in every setting. I wove on city buses (tying one end of the warp threads to the seat in front of me and the other around my belly, and on the door steps of centuries-old tar-smelling log cabins. I wove under the vast sky in a lingonberry patch, and on huge, smooth boulders in a place called "The End of the World" in the Oslo Fjord where the small islands of the archipelago disappear in the distance.

Eventually, at age sixteen, I bought a big floor loom and made rugs and clothes. My parents threw out the dining table and chairs because the loom filled a fourth of our small living-dining room in our tiny two-bedroom apartment flat. We lived in a postwar suburb, but in the foothills of endless forests in which children could play, ski, and pick wildflowers. Sometimes I would sleep in these woods in the snow on a reindeer hide under fir trees after skiing with friends in moonlight to a small and silent, white lake.

But the defining artistic moment took place when I hitchhiked at 21 for a year through Europe, visiting cities full of art. Ironically, though, it was not seeing all the fantastic paintings that made me an artist. The inspiration came in Ravenna, Italy, near the famous mosaics I planned to see but never did because I had my nose in a book that completely absorbed me: My Name is Asher Lev, Chaim Potok's famous novel set in New York in the 1950s about a young Jewish painter of Chasidic background. As a non-Jew, I did not understand the Jewish references – that is, a big part of the book – but I did relate, shaking, to the painter's sense of a calling to become an artist and questions about self-identity. I now yearned to make pictures, but I would "paint" them with yarn. This I pursued for most of the next 13 years, most memorably for two and a half years in Greece with my tapestry frame leaning on trees with pomegranates and olives, taking in the views, scents, and sounds of the Mediterranean.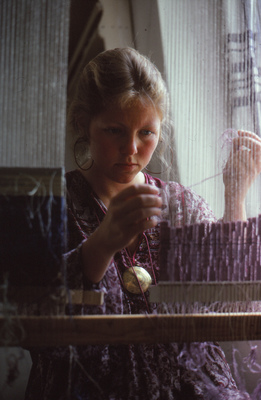 Crete, Greece, 1980
(Photo: Brit Aasvang)


I came to the United States in 1985, married, and soon moved to Oak Park, IL, to a house by a huge, thick-trunked and thin-branched locust tree with feather-like leaves. I had begun to establish myself as a Chicago based fine-arts weaver, but when our daughter Rivkah arrived in 1990, followed by her sisters, Miriam and Tavi, I gave up the time-consuming, intensive activity of weaving tapestries. I cried when I looked at my big and beautiful, walnut tapestry loom, hand-made in Oregon, but life got joyfully centered around family, schools, community, and eventually also Judaism.

Choosing Judaism was like coming home to a spiritual place I had longed for since early childhood. I converted after 18 years of being in love with Steve, my Jewish husband; 11 years of raising children; five years of baking challah and preparing Shabbat in our house and experiencing a growing love of Jewish observance; four years of singing in a Yiddish music group, three years of intense study; and a few minutes in the mikveh – just in time for chanting the 'Akeidah during Rosh Hashanah services in 2001.
I got to live a rich, Jewish life thanks to our congregation, Oak Park Temple. Celebrating and observing rituals and holy days (as a non-Jew) had sparked my intellectual curiosity, and the temple offered ample opportunities for study. Then, teaching Biblical and Prayerbook Hebrew and cantillation to adults, working in the Hebrew school and the Glasser Preschool, leading services now and then, singing in a cool liturgy-band with outstanding musicians, volunteering at the synagogue-sponsored homeless shelter and organizing artsy cafes and talk-shows – all this enabled me to develop a heartfelt relationship with Jewish traditions as OPT provided a wonderful setting for being engaged both in lofty and in practical ways. Sadly, but naturally, I did feel at times that I was a stranger. But Judaism is like a diamond with all facets of life, and in its burst of sparkles I could throw in my own perspectives. I found ways to draw from my past to make sense of current life in heartfelt ways.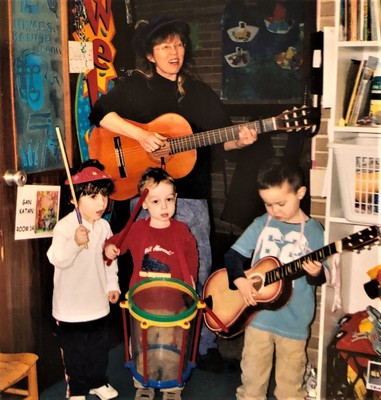 Working four years in the Glasser Preschool (OPT) was a true joy!
In spring of 2007 I started to wonder how I possibly could give back and contribute to Judaism by using my Scandinavian-oriented background, sensibility, and weaving skills. In addition, I wanted to explain my life-changing choice to my family, friends, and non-Jewish community and to maybe even build bridges. So, the following Rosh Hashanah I started my project WEFT and D'RASH. I now combine my instinctive fondness for my Norwegian heritage with my love of Judaism, and I live, sing, and weave under etz chayyim, the tree of life.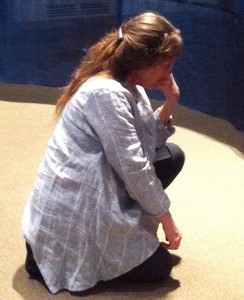 (Photo: Maria J. Jimenez)